CASC's annual conference took place at Carleton University in Ottawa from May 27th to May 29th.
At this year's our wine and cheese we celebrated CASC's 25th anniversary and honoured this year's recipient of the CASC award of merit – Leslie Brown!!!! Thank you Leslie for all your wonderful work.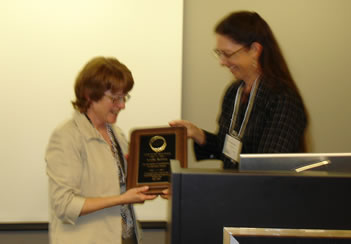 The conference included a panel of Ottawa-based co-operatives discussing innovation and continuity in the co-operative sector; a plenary presentation by Ian MacPherson on the history of the Cooperative Union and the Canadian Co-operative Association; joint sessions and a joint banquet with our colleagues at ANSER. As well, there was a great workshop led by the Co-operatives Secretariat on charting a course for future co-operative research in Canada.
George Melnyk provided this year's keynote address. The topic of the keynote was "The Search for Community" and explored how this search produces reciprocal demands from individuals and communities that are not easy to fulfill. Our many thanks to George!
MANY THANKS TO ALL OUR FUNDERS! WE COULD NOT HAVE PULLED IT OFF WITHOUT YOU!
We would also like to thank our CASC Conference Committee (Catherine Leviten-Reid, Tanya Gracie, JJ McMurtry and Janel Smith) and the staff of the Centre for the Study of Co-operatives at the University of Saskatchewan for all their efforts in organizing the conference this year. Thank you.
---
Conference Archive
Conference Papers and Presentations
If you would like to find the ANSER conference papers check here.
Thanks to Jun Zhao for taking the pictures you see on this page!