2009 CASC/ACÉC Conference Program Available!
Hot off the Saskatchewan press! Here is the 2009 CASC/ACÉC Program!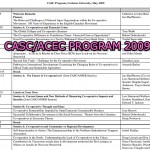 Download 2009 CASC/ACÉC Program here (.pdf)
Many thanks are due to Catherine Leviten-Reid, the conference planning committee, and the Saskatchewan support staff for all their hard work on the conference planning. What a wonderful looking program!!
Please check back to this website periodically before the conference as program updates will be posted.